You will now learn how to make the best meatball recipe of your life, you will be surprised by the practicality and the taste of this delight.
INGREDIENTS
– Oil;
– 1 onion;
– 600 g of ground beef;
– Parsley and chive;
– 2 eggs;
– 2 garlic cloves;
– 20g of breadcrumbs;
– Black pepper;
– Salt;
– Paprika;
– 2 potatoes;
– 200 g of mayonnaise;
– 2 tomatoes;
– 150g of mozzarella.
Now that you are already aware of the necessary ingredients, follow the step by step below.
METHOD OF PREPARATION
To be able to start preparing this recipe, you will need a mold that can go into the oven, you will have to grease it with olive oil and put 1 chopped onion.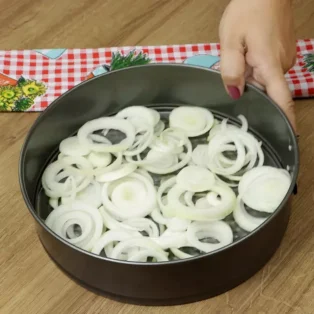 In a glass bowl you will place 600g of ground beef and add parsley and chives to taste, 1 egg, 2 cloves of garlic, 20g of breadcrumbs, black pepper to taste, salt and paprika to taste. Stir everything well and make balls with the meat.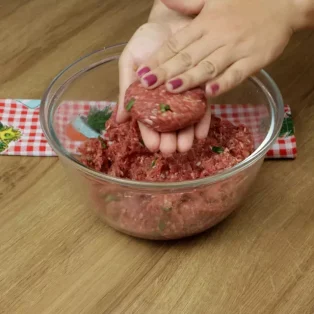 Cut 2 potatoes into slices and place them next to the meat in a baking dish.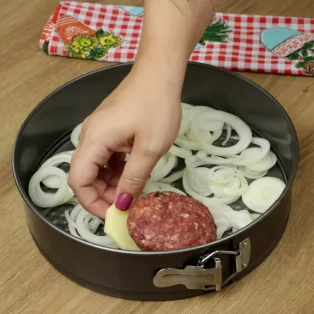 Once everything is in the mold, pour olive oil and put it in the oven for 30 minutes at 180 degrees.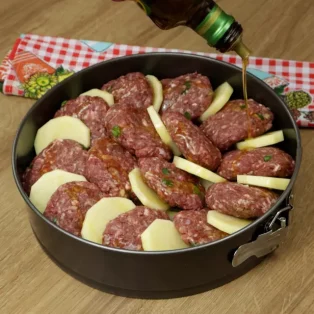 In a glass bowl, add 200g of mayonnaise, 2 tomatoes cut into cubes, 1 egg, 150g of mozzarella, salt and pepper to taste, then just stir everything and pour over the meat in the mold.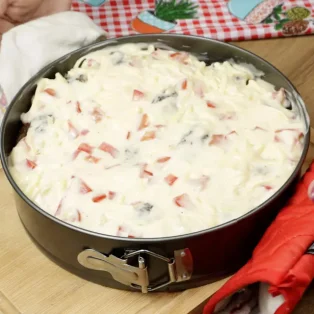 Finally put it in the oven at 200 degrees for 20 minutes, then when you take it out this incredible recipe will be ready.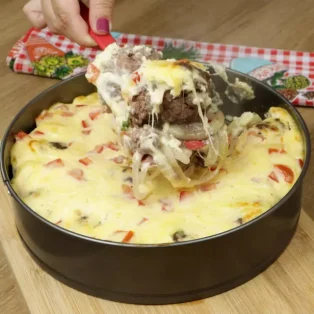 Hope you enjoyed this delicious recipe. Don't forget to share it with your friends and family so they can also try this recipe. And don't leave our website without knowing and learning how to prepare other gastronomic delights!